Description
Always save at least 10% extra when buying bundles

Shaving regimen provides immediate relief from ingrown hairs and prevents them in the future

Cleanse, exfoliate, and hydrate your skin with exactly the right products to shave without uncomfortable after-effects

Powerful biosynthetic antioxidants product visible results after just one use

Break the "shave and suffer" cycle and enjoy smooth, soft skin after shaving, every time
Luminous 3 Minute Peel FACE 50ML

Luminous 3 Minute Peel BODY 160ML

Fresh Start Foaming Cleanser 120ML

Environmental Rescue Essential Day Cream 50ML
Finally, a science-based shaving solution that actually works! 
The Real Chemistry Shaving Bundle includes exactly the right products to dramatically reduce the cycle of "shave and suffer" that characterizes ingrown hairs.  Shaving involves interacting with our tiny follicles using a really sharp razor.  If done incorrectly, extreme discomfort can be the result. The discomfort results from snipping the hair follicle too high. The follicle then "bends over" and skin grows over the top. This is known as an "ingrown hair". 
So there are two problems that make shaving difficult. Our hair follicles grow continuously, as does our skin. To expose the entire length of the hair follicle, you must exfoliate first, to ensure the skin surrounding the follicle is removed. Shaving the entire follicle is then possible – the razor can now catch the follicle at the very bottom leaving nothing in place to "bend over". Exfoliating every 3 days help stay ahead of the growth cycle and allows the cleanser to work effectively on the days in between exfoliating. A light, fresh, antioxidant-rich moisturizer helps to keep the skin soft, supple, and protected until the next shave. 
Ingredients
Real Chemistry's Dry Skin Bundle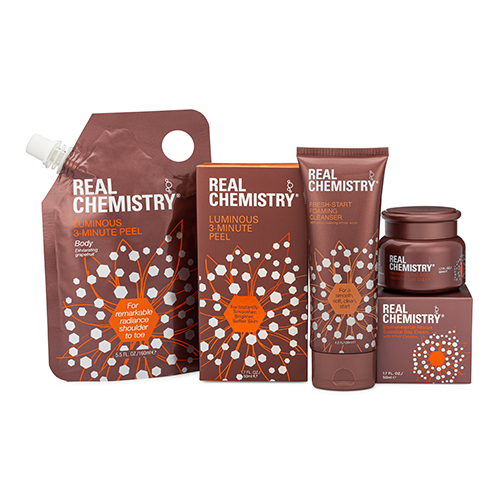 Only logged in customers who have purchased this product may leave a review.