Description
Always save at least 10% extra when buying bundles

Acne regimen provides immediate relief and predictable consistent outcomes

Cleanse, exfoliate, and hydrate your acne-prone skin with exactly the right products

Powerful biosynthetic antioxidants product visible results after just one use

Break the micro-infection cycle and enjoy clear skin
Luminous 3 Minute Peel FACE 50ML

Fresh Start Foaming Cleanser 120ML

Environmental Rescue Essential Day Cream 50ML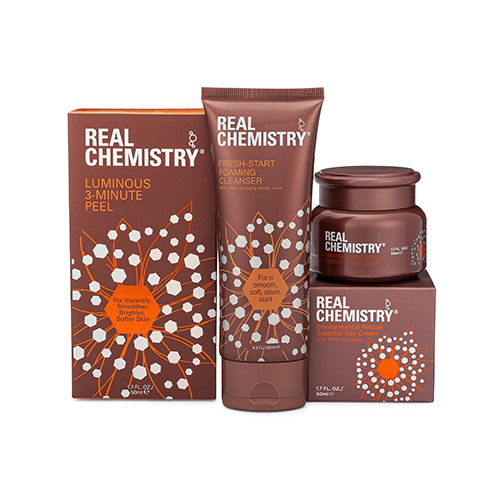 Finally, a science-based acne solution that actually works! 
The Real Chemistry Acne Bundle includes exactly the right products to dramatically reduce the cycle of breakouts and micro-infections that characterize acne-prone skin.  Pores get clogged with dirt and oil and then skin grows over the top of the pores, creating a tiny incubator for infection. Those micro-infections appear as whiteheads, blackheads, breakouts, and pimples. Stop the cycle. Cleanse daily to ensure pores are free of dirt and oil. Peel 3x per week to ensure that skin growth does not have a chance to close the incubator. Hydrate and protect with powerful, biosynthetic antioxidants in between.
Ingredients
Real Chemistry's Dry Skin Bundle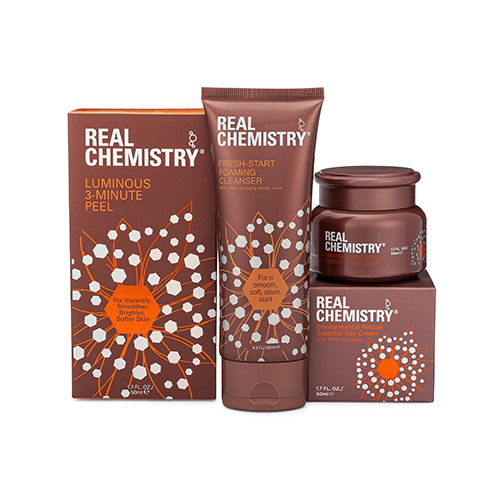 Only logged in customers who have purchased this product may leave a review.