Description
Fabric, face-shaped mask infused with a full ounce of firming Environmental Rescue Serum
Luxury treatment that requires 20-30 minutes for full infusion
Use weekly for deeply hydrating, anti-oxidant infusion before sleep
MTHV Complex® can help:

Improve elasticity
Reduce visible signs of aging
Reduce redness
Reduce darkness and dark spots
Improve and even tone
Enhance plump, radiant appearance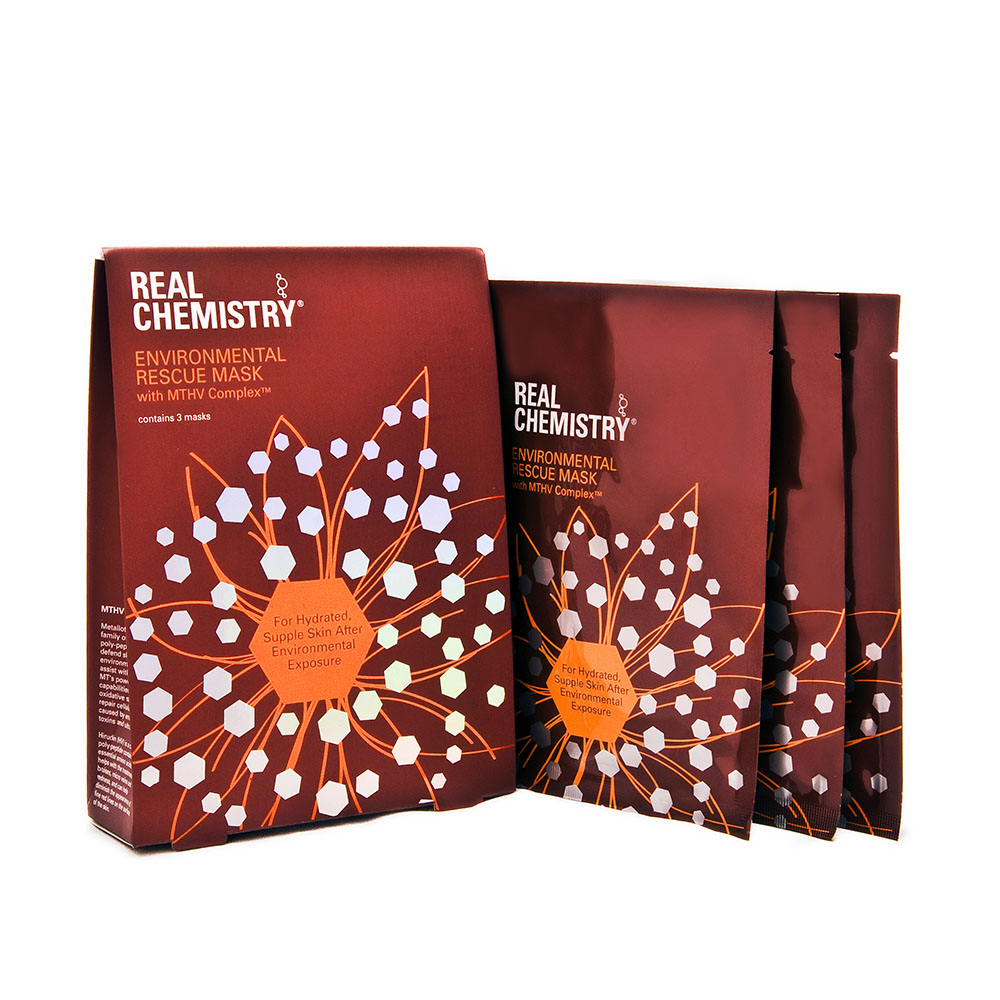 The ingredients in the firming serum infused into the intensive once-a-week fabric mask and daily-use pump, are incredibly unique. Proteins are the building blocks of life and the foundation of our technology. Our proprietary MTHV® Complex contains Metallothionein (MT) and Hirudin (HV). MT is a powerful, organic anti-oxidant "power protein", which can scavenge oxidative, free radical damage from the surface of the skin. HV is a natural blood thinner, which when applied topically, thins and disburses red lines under the skin which are actually blood particulates, allowing the body to reabsorb them. Hirudin can also enhance cellular perfusion and blood flow, assisting with the removal of toxins trapped under the skin.
The mask is worn for approximately 20 minutes once per week, optimally immediately following exfoliation using the Real Chemistry Luminous 3 Minute Peel. To maximize the benefits of the ingredients, we also recommend applying the firming serum twice daily, immediately following facial cleansing.
The mask contains 28 grams of serum or a full ounce of serum. It takes time for the skin to absorb this much serum so the mask acts as a delivery system for the firming serum. We recommend a once a week, intensive treatment using the mask right before sleep followed by a twice daily regimen applying the Daily Serum. Routine use of both products will help to diminish dark spots as well as fine lines and wrinkles, enhance the skin's elasticity, and evens and brightens the complexion. Increased motility (the speed at which both nourishment and toxins are carried to and from the skin cells) is of a great benefit, almost regardless of the skin care challenge being addressed.
Ingredients
Environmental Rescue Mask – Box Of 3
Only logged in customers who have purchased this product may leave a review.